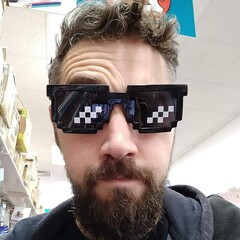 Ben Harker
Freelance VFX / CGI generalist, UK.
Eastleigh, United Kingdom
Summary
Hi, I'm a CGI generalist and VFX artist living and working in the UK.
I've recently completed some work in feature film VFX, advertising, and a little TV work. I also run https://vfxbox.store - offering high quality VFX asset packs that indy filmmakers can drag-and-drop into their productions to give a more professional look to action sequences.
I work primarily in Blender and Embergen, but have years of experience with the full Adobe suite. I composite with Fusion and After Effects, and edit in Davinci Resolve. I have a background in IT support, so I'm very confident when it comes to troubleshooting issues.
Skills
Compositing
3D Animation
Digital Sculpting
Visual Effects
blender
vfx
adobe
camera tracking
set extensions
Software proficiency
Productions
Movie

Gods Of Their Own Religion

Year

2021

Role

Visual Effects Artist / Compositor

Company

Trailblazer Films